I know you've all heard of strength coaches, but this is different.  This is a coach that can make a huge impact on your football program.  If you are a high school program, it is an advantage you can have that many others do not.  When speaking to coaches, I often say "you don't need more equipment, you need a real strength coach".  Imagine the dungeon warehouse where Ivan Abadjiev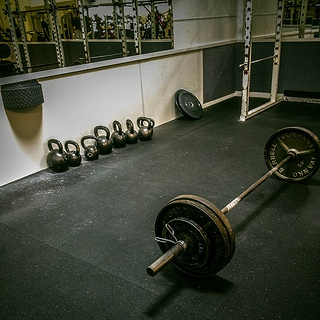 coached the world beating Bulgarian weightlifters in Sophia, Bulgaria.  No fancy equipment, no fancy facility, but world record breaking performances.  The key was the coach, not the equipment or the facility.  The great news is you don't need thousands of dollars worth of equipment or fancy facilities either.  You need platforms, barbells, squat racks and GRAVITY.  Even the very low budget school can have the very same training tools that Abadjiev had.  So the next thing that coaches ask is, "How do I get started?"
It is key to get the right person from the start.  First and foremost they are a coach that understands your football program and will buy in and want to be a part of it.  That is why I look at this position as a football coaching position.  Many times the football coach and the strength coach do not see eye to eye, and it usually results in a bad environment for coaches and athletes.  This position coach must be on board as the "Football Strength Coach".  If this coach does not buy in, he must be replaced, just like any other coach on your staff.
Once you have found the right person for the job, then you must develop the right strength program.  Remember that football is an explosive, violent, emotional game.  It is my opinion that your strength program should mimic those things.  There are a few basic movements that can really enhance these characteristics.
Bench Press – For upper body strength, the bench press is a good movement.  Although it is not the top of the list as far as importance, it is important and we all need upper body strength.
Squats – What really develops the strength and explosive power needed for football is squats (front & back) and cleans (snatches and jerks are also great).  When I say squats, I mean olympic style squats.  That means "sit the hips down between the ankles" squats.  Much, much deeper than most programs do, but definitely worth the effort.  These develop the entire lower body (quads, hamstrings, glutes, etc.)
Cleans – As far as cleans, snatches, jerks, they are absolutely a must to develop explosiveness.  Think of it like this. On a squat or a deadlift, you are decelerating and stopping at the triple extension of the ankle, knee, hip.  Very unlike running, jumping, hitting, etc.  On a clean, snatch or jerk, you are hitting maximum acceleration at the triple extension, just like running, jumping, hitting.  The highest power stresses recorded on humans in the triple extension from two feet happen during the second pull of the clean. (by the way, the highest power stresses happen at about 78% of an athlete's 1 rep max).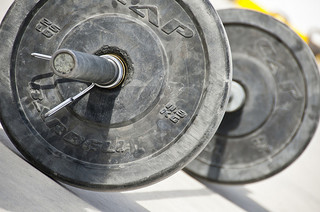 Now for the actual coaching.  A huge problem for the new strength coach is that they may have little or no experience teaching squats, cleans, etc.  This is a REALLY BIG PROBLEM in America.  My advice is quick and relatively painless.  Go to www.usaweightlifting.org and sign up for the nearest USA Weightlifting Level 1 Sports Performance coaching course.  It is a two day course and they do a great job of teaching these very things.  I guarantee if you attend one of these courses you will learn a tremendous amount about how to systematically and correctly teach these movements, and you'll find they really aren't that hard to teach after all.
After you have built the foundation of your program and you feel confident in letting them perform a 1 rep max, LET THEM!!  Nothing is more fun, exciting, and motivating than a good max day.  As a coach, you have to know when to stop them from a safety standpoint, but not letting kids max is really sapping great energy from your program.  If your kids are properly coached, injuries are few, but the gains achieved from good, honest competition between teammates is unmatched!   Post  a "Top 10" list of your main movements on the wall and watch the miracle of competition.  A top coach once told me that the "miracle" of Abadjiev in Bulgaria was not his programming or his facility, but it was his competition platform that he had set up in the training hall.  His athletes would regularly compete against each other as part of their daily training.  No time to relax because some teammate may pass you at any time.  The results were world record breaking!  You can obtain tremendous results with the same approach.  Kind of nice to know that these big fancy new weight rooms (like at Alabama, etc,) can produce no better gains than you can get right in your own high school.  Remember, barbells, platforms, squat racks and GRAVITY!!  That's all you need. If you have any questions, please feel free to contact me, Scott Safe at scottsafe@footballpower.net